IMPORTANT NOTICES
2 April 2022
12th Executive Council Meeting via Zoom Video Conferencing Application.

2 Feb 2021
INVITATION to all members and associate to participate in NavClimate-SedNet Workshop 10-11 Febuary 2021
Please send email to marjan_euser@deltares.nl to register for participation by denoting either member / associates of MPM. Click HERE to download program itinerary.
7th November 2020
MPM Executive Council Meeting via Video Conference, 0930h
22nd March 2020, Ref: MPM-2020-02
MPM Memo COVID-19 PRECAUTION AND HEALTH SAFETY MEASURES FOR MARITIME PILOTS>> Click to View
16th August 2020, Ref: MPM-2020-03
MPM RECOMMENDATION SOP PROTECTION AGAINST COVID-19 FOR MARITIME PILOTS>> Click to View
20th October 2020, Ref: MPM-2020-04
MPM Memo POTENTIAL RISK OF INFECTION ONBOARD TUG & BARGES (TB)>> Click to View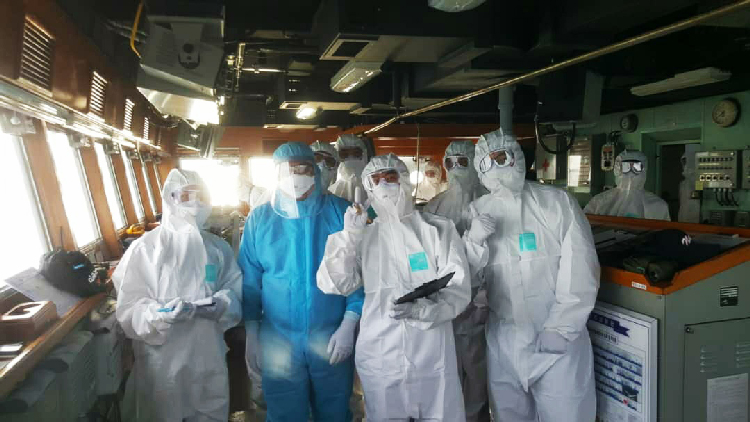 As the frontliner at port and harbour in Malaysia, maritime pilots continues to discharge their roles for the safety of navigation and pilotage; port and harbour; environment protection 24x7 during the Covid-19 pandemic without exception. More pictures >>
MPM Professional Members Bestowed the Maritime Pilots Stalwart Award 2018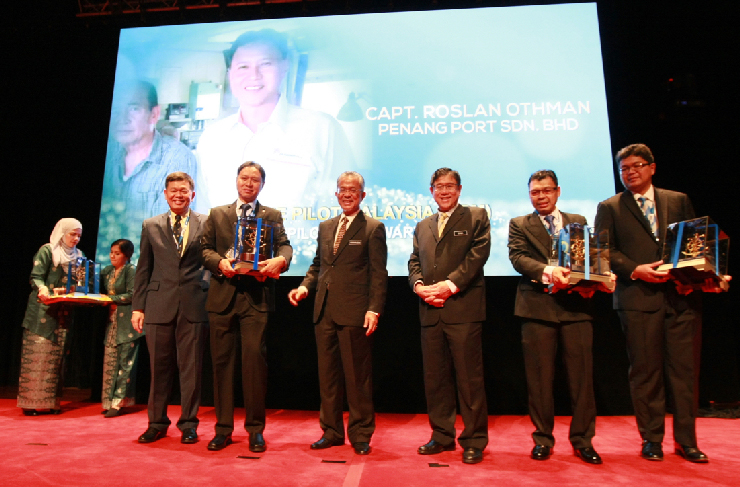 7th August 2018, KLCC Convention Centre
Malaysian maritime pilots heritage celebrated during the launching of Malaysian World Maritime Week 2018 Launch when THREE (3) members of maritime professionals of Maritime Pilots Malaysia (MPM), namely Capt. Cheng Sung Fong of Northport (Malaysia) Bhd, Capt. Mohd Sabri Amin of Bintulu Port Sdn Bhd and Capt. Roslan Othman of Penang Port Sdn Bhd, were conferred the Maritime Pilots Stalwart Award 2018 by the government of Malaysia. (Capt. Cheng Sung Fong was represented by Dato' Azman Shah-CEO of Northport (Malaysia) Bhd.
The award was bestowed for the first time in the history in Malaysia for their committent and continuous contribution to the sustainability and development of respective ports in Malaysia including their professionalism in pilotage, protection of life and properties and the environment.
The awards were presented by Deputy Transport Minister, Dato' Kamarudin bin Jaafar and Director General of Marine Department of Malaysia at the Plenary Theatre, KLCC Convention Centre.
Malaysia World Maritime Week 2018 was jointly organised by MASA (Malaysian Shipowners Association) and Ministry of Transport agency, Marine Department of Malaysia.
Read more at HellenicShippingNews >>
eCard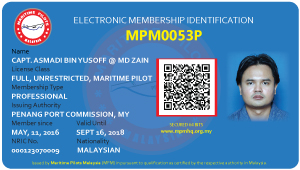 Introducing the MPM Professional Membership eCard that is equipped with secure digital information.
Get your PROFESSIONAL IDENTITY in a eCard by sending a copy of your passport photo and the latest certification or prove of qualification to:
secretariat@mpmhq.org.my

*Subject to scrutiny and approval.

Do you know Malaysia is a signatory to the BALI DECLARATION 2017?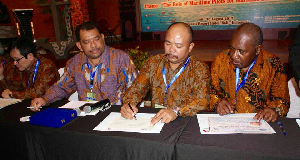 Maritime Pilots Malaysia (MPM), the national maritime pilots organisation in Malaysia was invited by the Secretariat of the Asia Pacific Maritime Pilots Forum 2017, under the purview of International Maritime Pilots Organisation (IMPA), to acknowlege and ink the Bali Declaration for the best interest of maritime safety and global shipping industry.

The Chairman & President of Maritime Pilots Malaysia, Capt. Martin Lim CM signed the BALI DECLARATION with 12 other Asia Pacific countries Head of Delegates on the 30th of August 2017 in Bali, Indonesia.

MARITIME PILOTS PERSONAL & INDUSTRY LIABILITY
Find out the content of the paper deliberated by Malaysia at the Asia Pacific Maritime Pilots Forum 2017, titled "Maritime Pilots Personal & Industry Liability at your member's page.

NOTICES TO MARITIME PILOTS!
If you are a qualified and licensed maritime pilot by the respective Port Authority, Marine Department of Malaysia or engaged in any pilotage conduct under contractual arrangement with your employer; and holder of Malaysian Citizenship or Permanent Resident status, you are cordially invited to apply for MPM's Professional Membership. MPM Professional membership has its exclusive privileges and benefits.
MPM is a registrar of Malaysian maritime pilots.

MPM Professional Membership, ONLINE REGISTRATION (new) // or

Fill your membership form and submit to MPM Office.
Download MPM Membership Form.

Document required to be submitted:
1.) Scan copy of NRIC Photos
2.) Recent pilotage license
(including any other supporting documents)
For more enquiry, please send us an email to secretariat@mpmhq.org.my
New MPM Professional Membership

| | | | |
| --- | --- | --- | --- |
| No. | Name | Port | Status |
| 1. | Mohd Hanafi Mohd Ali | Sg Udang Port Sdn Bhd | --Approved-- |
| 2. | Mohd Shahrizal bin Abu Seman | Kuantan Port | --Approved-- |
Welcome onboard and Congratulation to our beloved new MPM Professional Members!
MPM Executive Council.

---

Malacca Straits Voluntary Pilotage, Governmental Tri-Parte Discussion
(Malaysia, Indonesia, Singapore)

Maritime Pilots Malaysia, MPM is a participating member, representing the Malaysia government.
---

Where is MPM heading and how to be there?
Read out more about Strategic Collaboration and Partnership (SCP)
MPM Journal>

---

* Mouseover and click on the thumbnails to read.
---
"There are few members of the shipping industry who are so vital to safety as pilots.... Pilots are at the apex of the professionals in the maritime industry when it comes to navigational skills, knowledge, experience and ship handling"
Quoted Nick Cutmore, Secretary General IMO.